Covid 19 Workplace Signage
Get your business Alert Level 3 ready with our simple Covid 19 Signage Kits. 

We've designed these packs to help you make your workplace safe, quickly.
CHOOSE FROM OUR TWO SAFETY AND HYGIENCE SIGNAGE PACKS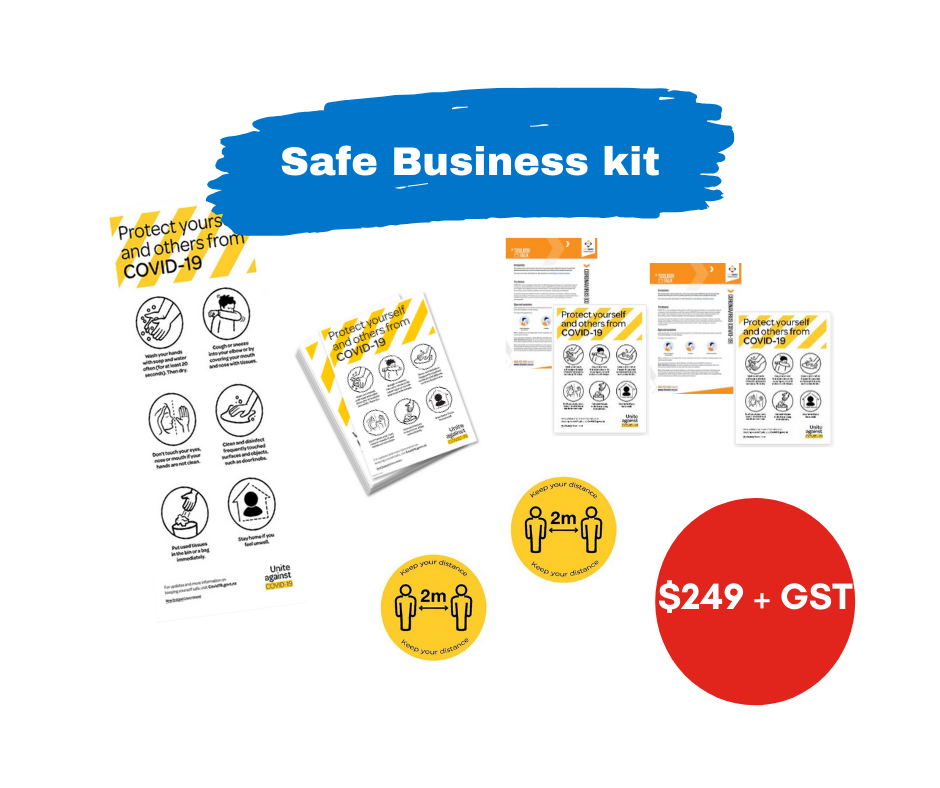 Get so much value with our Safe Business kit.
It comes with loads of signage that will help make making your workplace safe, easy. And fast!
9 Safety and Hygiene Posters – A2 size – water and rip resistant – mix of messages 
1 Hazard Board Banner – 300×800 coreflute – space for personalised message
4 Adhesive Decals – 250mm wide round – sticks to floor, walls, windows – mix of messages
1 Safety and Hygiene counter stand – A4 size
FREE – 7 ready to use Worksafe forms and tips. Just photocopy and away you go
FREE – packaging which doubles as a case for keeping all your Safety documents in one place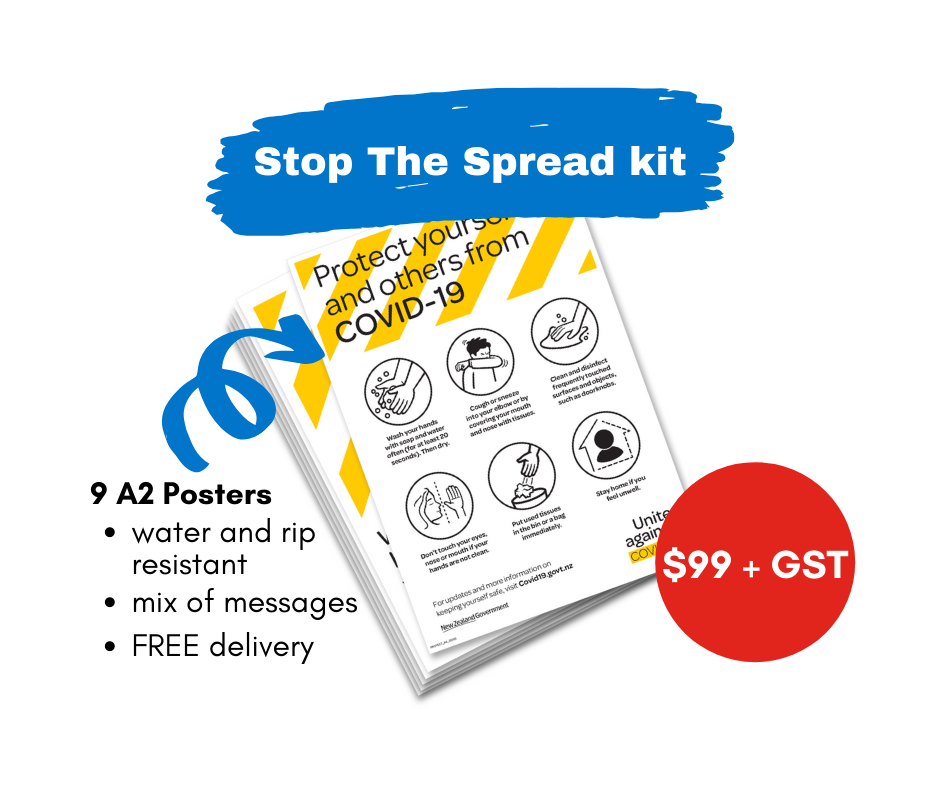 Spread the word with our handy Stop The Spread kit.
You'll be able to get your safety and hygiene messages around the office, quick smart. Some posters even have space for you to add a personalised message.
Have a big workplace? How about ordering more than one kit?
9 Safety and Hygiene Posters – A2 size – water and rip resistant – mix of messages such as;

Stop! Staff only

Practice social distancing

Cough or sneeze into your elbow

We are open for delivery only
Delivery: timeframes are estimated and subject to Courier network workload. North Island is typically 1 – 2 working days. South Island is 3 – 4 working days. Each order will be dispatched same day for payments received before 3pm, and tracking details will be shared by email. Free delivery only available for NZ customers.
Payment: Each order will receive a quote within 1 working day, including online banking details for Expandasign NZ. Orders will be dispatched when payment or remittance advice is received. Existing Expandasign NZ customers may contact their Account Manager to discuss other payment options.
Level 3 compliance: Every business is different, so it's important that you research and implement what is required for your business under NZ law. e.g. there may be other systems and controls that you need to establish and maintain to be deemed 'safe' and able to operate within Alert Level 3 guidelines. Our Covid-19 kits contain materials that most businesses will find useful and are designed to make things a little easier for you.
LOOKING FOR SOMETHING ELSE FOR YOUR BUSINESS? NO PROBS!