Great for catching the attention of passengers travelling along roads
Where there are no 'arms' on the posts available, Expandasign supplies two horizontal elbows and rods. The elbows are attached to a pole top and bottom with jubilee clamps. The rods slide inside the sleeve of the banner and attach to the elbows.
The banner is secured to the pole with cable ties or shock cord to prevent it from sliding off.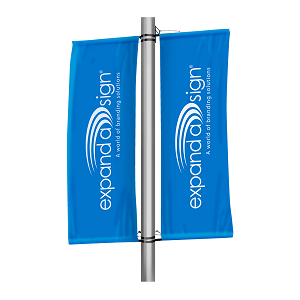 Been to Rotorua in the last 10 years?
You're bound to have seen our Street Flags in action then! 
VERSATILE

– skins are easy to change  
HIGH VISIBILITY

– branding is clearly visible from afar 
SIMPLE TO USE

– easy to set up and take down
PORTABLE

– get your brand seen anywhere  
PRINTING

– print double or single sided 
Print options – single or double sided
Fabric – Lightweight (single sided) and Lightweight block-out (double sided)
Right or left orientation
Outdoor use
Steel bracket with steel pole fitted using wingnut
Customer options: eyelets, pocketed poles, rod and elbow
Can be reskinned – use your existing hardware and just change the fabric skin