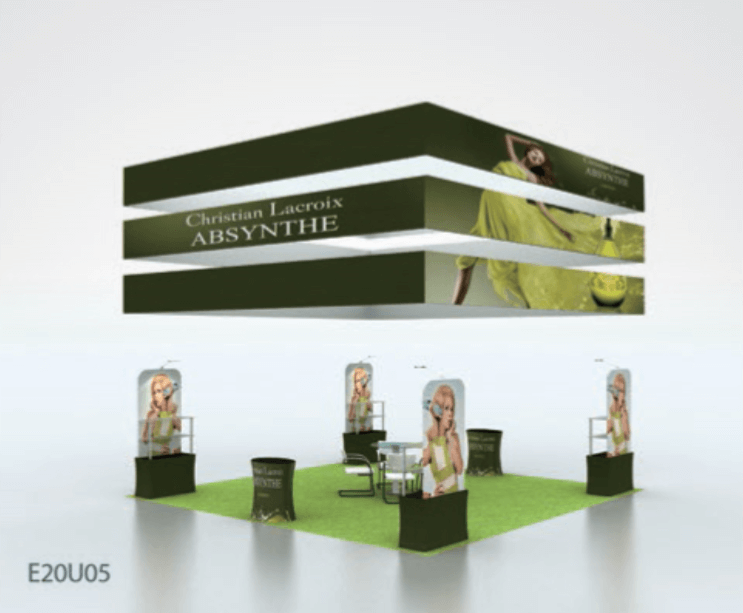 Tradeshows are a flurry of activity. There are masses of people. Noise. Relationships being built. And deals being made. You've got one day, or a few at best, to attract as much attention for your brand as possible.
So, what's the secret to success if you're organising a trade show exhibit?
You need to stand out from the crowd.
Expandasign has been helping brands do just that for over twenty years. We know what it takes, and how to navigate your way through the challenges you'll face leading up to the big event.
Let's dive in.
How do you exhibit like a pro?
When it comes to exhibitions, don't be afraid to go bold. After all, a banner that's dull won't bring in the crowds. Be innovative. Who says that your display has to be two dimensional? Curved display surfaces and three dimensional branding is a great way to draw the curious to your doorstep.
Exhibitions can be a large portion of your marketing budget and the necessary planning takes time and forces your team out of their comfort zone and into the paths of the masses. But exposure leads to new relationships which is a vital component in forming lucrative business connections. Don't leave your planning to the last minute.
But first – build your brand.
You need to know what your brand stands for so you can ensure that your exhibition presence is mirroring your company correctly. Your corporate identity will include the basics
But you should also include more abstract ideas that represent your brand; such as practises, philosophies and psychological guidelines.
Know what you are doing there
Settle and resolve what your objectives are before thinking about a stand design. The most successful stands are created from deliberate, studied briefs that have clear goals.
Trade show ideas
Once you have the points above settled, what's next? It's time to formulate create a plan, or brief.
Begin with an idea
Think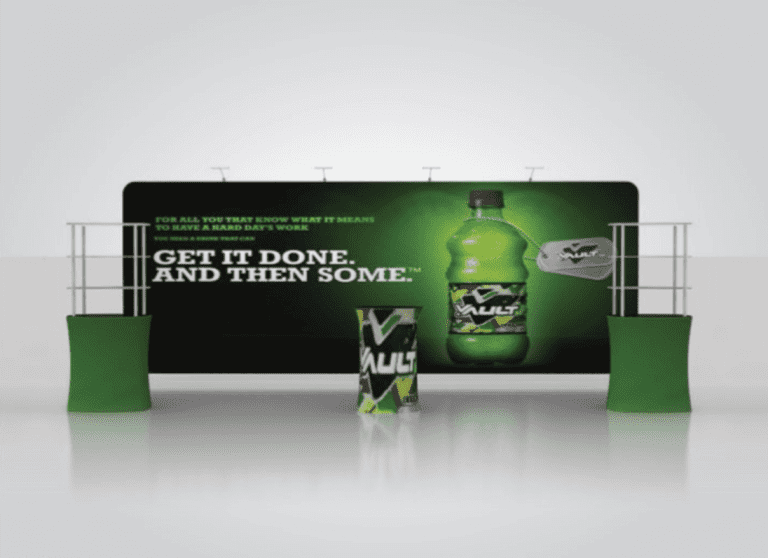 about your trade show stand in its simplest form, and work from there towards furniture options, stand space required, lighting, branding materials, etc. Tell people what you want. Create a clear, concise brief for stand-builders, signage companies and equipment hire firms. Explain your main aims for the show and ensure that your objective is their objective too.
For example, there will be a difference in the layout of the floor space depending on whether your focus is simple brand awareness compared to if it's a new product launch. In the latter case, your company branding may take more of a backseat so you can put more of a spotlight on your new product.
Designing your display
When it comes to creating a trade show display, your images and messages should be simple and your layout clean.
Below are five basic elements that every trade show display should include and tips for using each of these elements to create an effective trade show display.
Visual
Headline
Description
Company name & Logo
Website
1. Select your trade show graphics carefully.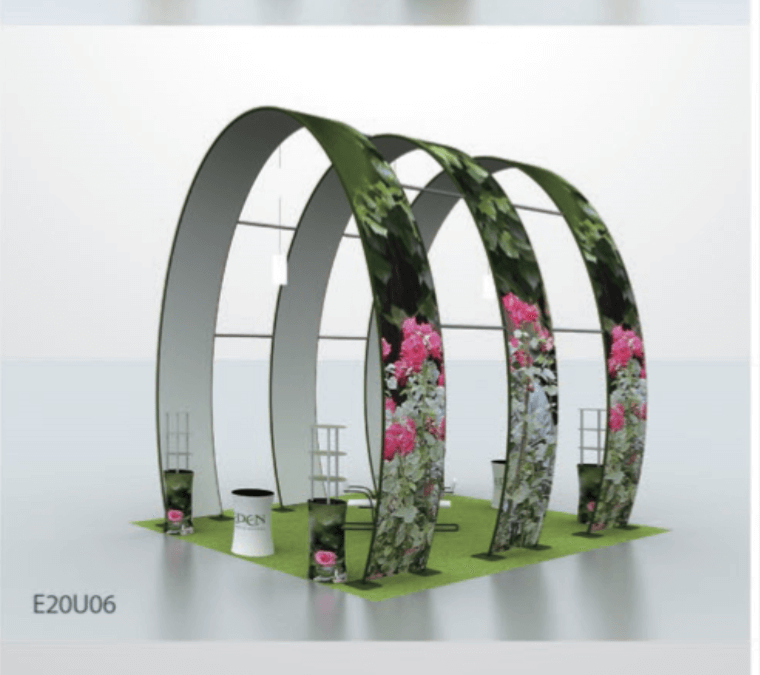 Simple, bold and clear images are the most effective in creating a memorable canvas for your selling story. Ornate, involved, mysterious and confusing art and graphics may be great to look at but can be distracting and much less effective as a backdrop for your trade show message.
Tip: If possible, select simple single images. You may want to use many images to tell a complicated story, but often, a single simple image will serve you just as well.
If you are in the market for trade show graphics, there are many services that offer simple searches and reasonably priced photos and illustrations that may be used in creating trade show display graphics. Try iStock for starters.
2. Create a simple and easy to remember headline
Choose your words carefully, and keep the headline for your trade show display short and sweet.
Most people that did not plan to visit you at the show will simply walk past your booth. They may, at best, give your display a passing glance.
This, believe it or not, is often your only chance to grab them. If your trade show display has a carefully thought out and compelling headline that stands out, they may choose to take an extra moment and learn a little more about your company.
The shorter your headline the larger it can appear on your trade show stand. The larger it is on your trade show display the further your display can reach into the trade show traffic. Even a small tabletop display with a short bold message can be seen from several yards away.
Your choice of typeface is also important. With thousands to choose from, the task of selecting the right one can seem daunting.
Tip: Choose a simple and easy to read typeface. Next time you're at a trade show, take notice of the displays produced by large companies. Not necessarily large booths, but even tabletop displays produced by large and successful companies consistently use simple bold graphics. You can and should do the same.
3. Be careful when writing your description
We know it's tempting to write a description for your trade show display that explains everything you want your customer to know about your product or service, but don't.
As much as you would like them to, most trade show attendees will not want to spend much time reading about your company. If the headline and graphic of your trade show display captured their attention, they may want to read a sentence or two at most. Keep your sentences short and choppy. Make each word count.
Tip:
Use bullet points
Keep your messages short
Don't get too technical
Less is more
If you have access to a copywriter, use one. If not, ask a friend, a school teacher, and/or someone not connected to your business to review your trade show display description. You will be amazed at how much you can learn.
4. Make the company name prominent.
It's amazing how many trade show displays seem to hide their company name. You pay a lot of money to exhibit. Take a little extra effort and make certain your company's name is easy for all to see.
Tip: Place the company name in the header portion of your trade show booth, as most trade show visitors will expect to find it there.
As for a company logo, if you don't have one, we suggest that you create one. It is your opportunity to create an impression. It makes you look established.
5. Feature your website and social media address.
Probably the single most important message in your whole trade show display is your website address. This is because if the show attendee saw something at your booth that interests them, they can copy your website address, even from a distance, and visit it at their leisure.
Tip: Try to select a website name that is both meaningful to your business and one that is easy to remember.
Ready to generate trade show booth ideas that attract visitors?
Best of luck with the design of your trade show booth. If you follow the steps above you'll be well on your way to success.
Should you require assistance with branding solutions that attract visitors, feel free to contact us on sales@expandasign.co.nz